Pros and Cons of Banner Stands
September 26th, 2012 — bannerstandsblog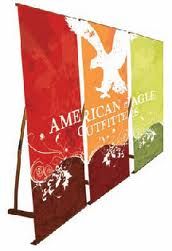 The use of banner stands for product recognition and business marketing is apparent and its functions are recognized by business tycoons all over the world. Hence, you won't have to fuss on that colorful, swaying banner in the exterior vicinity of an office. Banner stands are usually placed outside because most of these are bigger and taller for visibility purposes even at a distance. Banner stands come in many types like retractable banner stands and L banner stand. If you are thinking of using this product in your company, you might want to take note of its pros and cons first.
Banner stands are catchy and larger compared to flyers and pamphlets. It's more colorful and appealing than its other counterparts, making it best placed in outdoor spots. These are two of the reasons why these stands are basically placed in the entrance of a building or in an empty outdoor spot in a booth or office. A lot of banner stands nowadays already come with handy and lasting stands. Most of these are lightweight and easy to keep, which makes it very portable and best for traveling purposes without the need for more manpower. Such features have made it likeable during trade shows and product launching activities. Apart from that, most banner stand manufacturers these days already offer banner stands that can be printed on both sides. This way, you can make use of both sides for advertising.
On the contrary, banner stands might not be the best advertising or marketing tool if your business is not more on travelling and repositioning or if you don't have any plans of joining several trade shows and exhibits. Aside from that, banner stands are not best if your office has very minimal space. Banner stands need enough space to be positioned on and not just squeezed in any empty, small area in the office.